ORION/CMSA Co-Event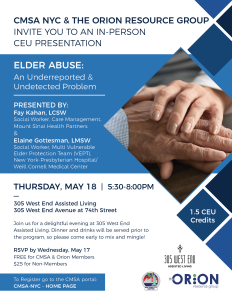 JOIN US IN-PERSON
ON THE UPPER WEST SIDE
The Orion NYC & LI Chapters present:
ELDER ABUSE: An Underreported and Undetected Problem (1.5 CEUs)
JOIN US for a delightful evening at 305 West End Assisted Living.
DINNER AND DRINKS will be served prior to the program, so please COME EARLY to mix and mingle with CMSA and ORION!
THIS EVENT IS FREE FOR ACTIVE ORION MEMBERS. Please reach out to leah@orionrg.org if you have not already received your code.
CLICK HERE TO ACCESS THE CMSA PORTAL AND REGISTER FOR THIS EVENT
Not an Orion member? JOIN NOW or pay $25.00 as a guest.
Hosted by:
305 West End Assisted Living
New York, NY 10024
To Register go to the CMSA portal:
CMSA-NYC - HOME PAGE
Please log in to register for this event.
Log in