Long Island IN-PERSON Meeting
Understanding the Fundamentals and Benefits
of Animal Assisted Therapy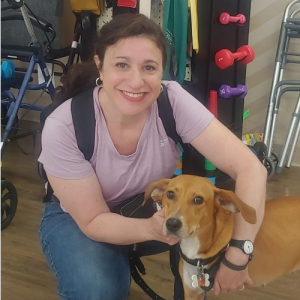 SPEAKER: Amy Bahr
Amy is an animal lover; she has had dogs her whole life and has worked with them for over 18 years! Her multi-FUN-ctional canine team will help you, or your loved one, achieve your goals! Amy is proficient in Spanish. She can also greet people in 6 other languages. Animal-Assisted Therapy is a therapeutic intervention that uses dogs to complement or conduct traditional therapies. Dogs provide a sense of calm, comfort, safety, affection, attention, & relaxation. Animal Assisted Therapy can be beneficial for many people including those that are:
Dealing with a cognitive impairment
Experiencing grief and loss
Feeling isolated
Dealing with a medical adjustment
On hospice
Receiving other treatment modalities
Animal lovers
Advance registration required.
Join us at:
The Bristal Assisted Living at North Hills
99 South Service Road
North Hills, NY 11040
Please log in to register for this event.
Log in